The Spotlight
October 2021 - Immedium
---
---
1. NEWS
---

A. National Hispanic American Heritage month
---

From September 15-October 15, America celebrates the cultures and contributions of Latinos. In 1968 President Lyndon Johnson began Hispanic Heritage Week; in 1988 the commemoration became a month.

Our first Spanish bilingual book was

Good Dream, Bad Dream: The World's Heroes Save the Night!
by Juan Calle and Serena Valentino.

Learn how dynamic superheroes from cultures around the globe help kids face their fears and hearten their hopes! School Library Journal recommended this storybook with a review.

Our second Spanish bilingual book was

That Girl on TV Could Be Me! The Journey of a Latina News Anchor
by Leticia Ordaz, illustrated by Juan Calle

School Library Journal just named it one of the 29 Picture Books to Celebrate the Latinx Experience: "A motivating picture book biography that will inspire children to pursue their dreams by working hard and overcoming challenges."

Giveaway #1:
The first 3 people, who order an autographed copy of Good Dream, Bad Dream or That Girl on TV Could Be Me! this month from our website, will get a free 8 x10 print!


B. Book an Octonauts vacation!
---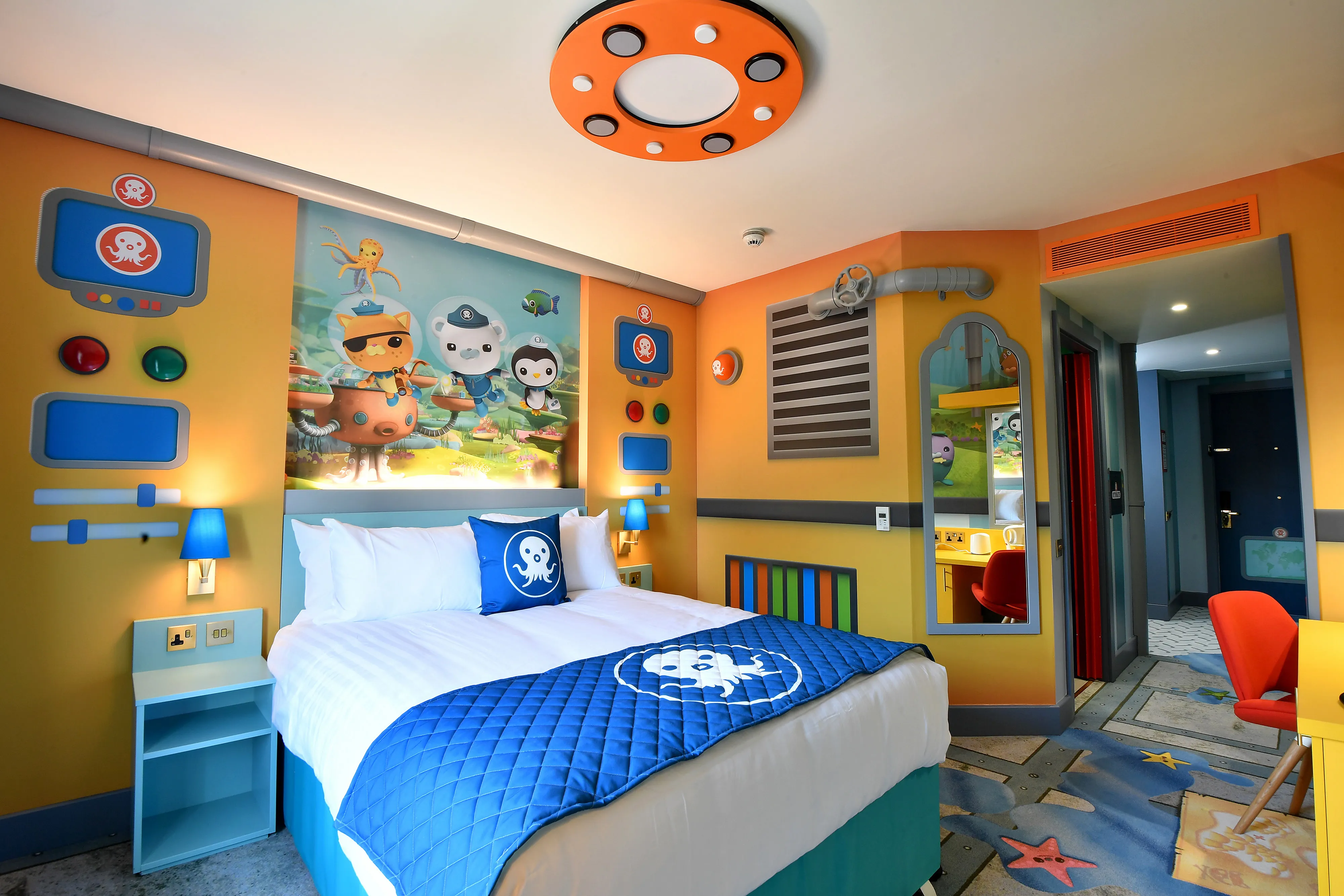 Since 1980, the Alton Towers Resort has attracted fans to its amusement park in Staffordshire, England. Now it has the UK's only CBeebies Land Hotel (which features fan favorite characters from the BBC's children's TV network).

Guests can reserve a special Octonauts-themed room, complete with a submarine bunk bed, control panels, periscopes, and portholes.

Our 4 original Octonauts storybooks inspired the hit animated TV series. Every year more kids and their parents enjoy the inventive fun and amazing artwork of our original Octonauts adventures.


C. Japanese Culture Festival in Millbrae, CA
---

On Sunday, October 3, Immedium visited the lovely town of Millbrae (just south of San Francisco, CA and the SFO airport) and autographed our books!

The annual Japanese Culture Festival returned to inspire the appreciation of diversity in our community. This year's street festival was a family-friendly event with entertainment, food, and activities.

Immedium was at the Asian American Curriculum Project booth, from 10:30 am to 4:30 pm at the city's Civic Center. We were happy to share our stories again in person with readers of all ages.

Our Japanese bilingual stories include
- Sora and the Cloud by Felicia Hoshino
- The Discovery of Anime & Manga, the third adventure in our series The Asian Hall of Fame.

Giveaway #2:
The first 3 people, who order an autographed copy of an Asian American themed story this month from our website, will get a free 8 x10 print.



---
2. REVIEWS
---
Play with your Food
by David Derrick

"My boys enjoy the fun story lines that this author always seems to master, as well as the colorful and personable illustrations. As an artist myself, I aspire to create illustrations as enchanting as those within the pages of David Derricks stories. I'm sure it not easy find a balance in illustration between a dinosaur looking too ferocious and overly friendly, but the art in Play with Your Food hits the mark perfectly."
- Just a Little Creativity

- - -



Space Cadet Topo
by DGPH

"What an engaging story, with crisp artwork, charming characters, and a noble hero! After reading this fanciful adventure, I hope young Space Cadets will be inspired to learn more about stars, outer space, and the amazing universe around them!"
- Bing Quock, Assistant Director, Morrison Planetarium, California Academy of Sciences


---
3.
EVENTS
---
OCTOBER


10/3: Millbrae Japanese Culture Festival, Millbrae, CA.
10/13: Oliver Chin, presentation at 31st Union video game company, San Francisco, CA, 5 pm
10/19: SFSU guest lecture, AAS 512 class, San Francisco, CA, 9:30 am
10/29: Oliver Chin: San Francisco Montessori Preschool, San Francisco, CA, 10 am

NOVEMBER


TBD: Oliver Chin: author visit: Los Lomitas elementary school, Atherton, CA
11/20: Square & Circle Club, San Francisco, CA, 11:45 am



---

Keep reading!


---
Immedium
P.O. Box 31846
San Francisco, CA 94131
orders@immedium.com

---
Immedium, Inc. inspires a world of imagination, and creates entertaining books that have multi-dimensional appeal. Based in San Francisco, CA, Immedium sits on the Pacific Rim, a vibrant intersection for crossover cultural trends from Asia and America. Embracing an increasingly diverse and "multimedia" world, Immedium publishes titles ranging from eye-catching children's books and contemporary non-fiction to commentaries on art and popular culture. Visit us at www.immedium.com
---